English for Academic Discussion Classes
English for Academic Discussion Classes aims to help students of International Studies or related academic fields improve their competence in academic communication skills, sharing their thoughts on a number of global or national issues. This is achieved in various ways, as the material is intentionally flexible in design. The materials provide a beneficial environment for students to
- develop new ideas
- understand views from different perspectives and
- practise analysing the world through the lens of a particular field
The discussion topics dealt with are highly provocative, challenging and have many levels of discussion. For each topic there is a section containing information which offers those students who do not like to have to voice their opinions in class, the opportunity to take part in discussion from given material. They can even take the side of the argument against their own beliefs and can always assume that if someone else should take offence, they can blame the course materials.
The material
- facilitates debate, using the Speaking Strategies and Hints cited in the first part of the book,
- provides handy hints to build up students' self confidence and speaking skills,
- helps students develop self-expression with key words, collocations and phrases. The Ammunition Box is designed primarily as an aid to the discussion questions and includes useful vocabulary and concepts on the topic area and extra factual information
- uses authentic texts from a wide variety of sources, including newspapers, magazines and websites which have been selected to give controversial and challenging viewpoints on global issues. Using the ideas and facts provided in the book, students can develop and express their own opinions on 25 discussion topics, guaranteed to engage their interest and enthusiasm.
- provides discussion questions which are either source-based or for extended speaking, open-ended.
- Suggests ideas for further research in the Networking section. Suggests ideas for further Web search as well as for Web Task
Αξιολόγησε το προϊόν
Ρώτησε για το βιβλίο
Προσθήκη στα αγαπημένα
menu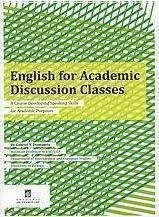 BookLeader

Άμεση παραλαβή / Παράδοση 1 έως 3 ημέρες

Plus4u
Δεν υπάρχουν αξιολογήσεις
Μοιράσου την εμπειρία σου!
Γράψε μια αξιολόγηση για το English for Academic Discussion Classes και βοήθησε σημαντικά τους άλλους χρήστες!
Αξιολόγησε το προϊόν
Παρόμοια βιβλία